Groundwater banking is a water management tool designed to increase water supply reliability. By using dewatered aquifer space to store water during wet years (years when there is abundant rainfall and surplus water available), it can be pumped and used during dry years (years with little rainfall and no surplus water).


Groundwater banking is accomplished two ways: through in-lieu and direct recharge. In-lieu recharge is storing water by utilizing surface water "in-lieu" of pumping groundwater, thereby storing an equal amount in the groundwater basin. Direct recharge is storing water by allowing it to percolate directly to storage in the groundwater basin.


At Semitropic, wet year and surplus water is stored in the groundwater basin primarily through in-lieu recharge. The district delivers surface water to farmers for irrigation in-lieu (or instead of) pumping groundwater.


To a lesser extent, Semitropic also stores water through direct recharge. Throughout the district's service area, there are a number of recharge basins where water percolates to the groundwater basin.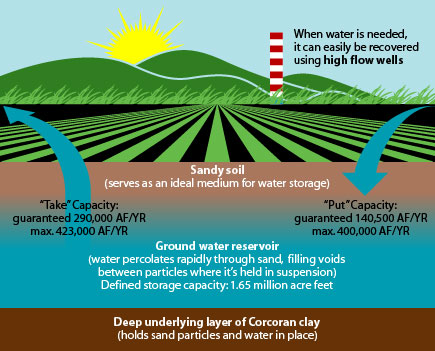 Whenever necessary, the "banked" water is returned to the State Water Project to deliver to banking partners by a release of Semitropic contract entitlement or, in some cases, through "pumpback" to the California Aqueduct at 300 cubic feet per second.
Cubic feet per second (or cfs) refers to the standard term for the rate of flow of irrigation water. A cubic foot per second of water is a cubic foot of water (which is one foot wide, one foot long and one foot high) passing a given point every second.
One cubic foot of water is equal to approximately:
405 gallons every minute.
One acre-inch every hour.
One acre-foot every 12 hours.
What safeguards does the district have in place to ensure reliability of the groundwater storage bank?
Accountability is the foundation of the Semitropic Water Storage Bank. Storage and recovery of water for each account is metered and closely monitored. A report issued every time water is moved into or out of the bank helps the district track the activities and levels of the storage bank.


To further ensure the reliability and accountability of the groundwater bank, a groundwater monitoring committee was formed shortly after the groundwater storage bank was developed.


Semitropic believes in providing full disclosure to participating agencies and makes every effort to provide adequate information to retain the trust of its partners. Banking partners also have the option of auditing the Semitropic Water Storage Bank at any time.
Is the water bank fully committed?
No, there are still approximately 450,000 acre-feet (or 150,000 shares) of storage available.
How can agencies or organizations become banking partners?
Contact us to find out more about the availability of storage capacity and becoming a banking partner. A Semitropic Water Storage District representative will send you additional information or schedule an appointment for you to meet with district management.
What is the State Water Project?
The California State Water Project is a water storage and delivery system of reservoirs, aqueducts, power plants and pumping plants. Its main purpose is to store water and distribute it to 29 urban and agricultural water suppliers in northern California, the San Francisco Bay Area, the San Joaquin Valley, the central coast and southern California.


The project makes deliveries to two-thirds of California's population and is maintained and operated by the California Department of Water Resources.
What is a 50 percent State Water Project year?
A 50 percent State Water Project (SWP) year means that only 50 percent of the annual amount of water under contract with 29 water agencies with long-term SWP contracts was available for allocation.


Because the SWP has not completed facilities to meet its contract obligation, a reduction in allocations can result in water shortages at the local level. As a local project, the Semitropic Water Storage Bank helps increase water supply reliability in drought years to close the shortfall in the state's contract obligations.